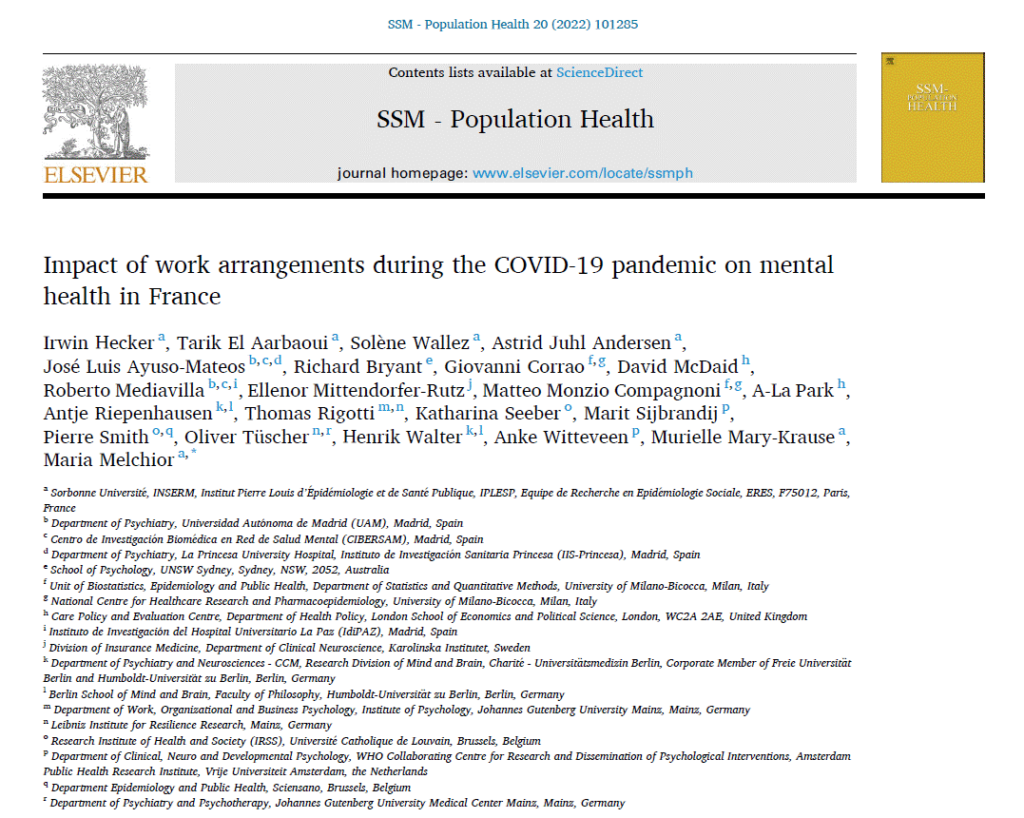 New RESPOND publication: Impact of work arrangements during the COVID-19 pandemic on mental health in France
Led by researchers at INSERM, in collaboration with various members of the RESPOND consortium, a study was conducted on the impact of work arrangements on mental health during the COVID-19 pandemic in France.
The researchers sought to identify associations between participants' employment situation and symptoms of anxiety and depression during the COVID-19 pandemic using data from the TEMPO cohort study. Participants in the study responded to multiple questionnaires before and during the pandemic.
Evidence was found that there was a significant mental health impact on unemployed workers during the pandemic and a near-significant impact for people experiencing financial difficulties. The authors call for mental health prevention programmes to offer more targeted support to individuals who have limited (monetary, material, and/or social) resources.
Hecker, I., El Aarbaoui, T., Wallez, S., Juhl Andersen, A., Ayuso-Mateos, J. L., Bryant, R., Corrao, G., McDaid, D., Mediavilla, R., Mittendorfer-Rutz, E., Monzio Compagnoni, M., Park, A., Riepenhausen, A., Rigotti, T., Seeber, K., Sijbrandij, M., Smith, P., Tüscher, O., Walter, H., Witteveen, A., Mary-Krause, M., Melchior, M. (2022). Impact of work arrangements during the COVID-19 pandemic on mental health in France. SSM – Population Health, Volume 20, 2022, 101285, ISSN 2352-8273. https://doi.org/10.1016/j.ssmph.2022.101285